I was absolutely over the moon to wake up this morning to the news that Slam! has won Best LGBT Romantic Comedy in the 2013 Rainbow Awards hosted by the tireless Elisa Rolle.

And Pressure Head came a very pleasing third in the category for Best Gay Mystery/Thriller.
I was delighted, too, to see good friends Lou Harper
and Charlie Cochrane in the list of winners – Lou came first in the category Best Gay Paranormal Romance with her vampire tale Spirit Sanguine, and Charlie's lovely story Promises Made Under Fire was just pipped at the post in the Best LGBT Historical category – with relative newcomer Elin Gregory coming in third.
Congrats to all the winners and runners-up – and a huge vote of thanks to Elisa and the RRW for running the awards!
I was tagged by the lovely Josephine Myles on FB, so here goes:
Ten books that have stayed with me – in no particular order, and omitting many more:
The Machine Stops – EM Forster
Gobsmacking prescience re the internet
Discworld Series – Terry Pratchett
Impossible to choose just one. And a masterclass in British humour
Jane Eyre – Charlotte Bronte
A real eye-opener after reading works by her near-contemporary, Jane Austen: all that passion!
The Italian – Ann Radcliffe
Her best, most complex villain, plus her trademark lush scenery and gothic atmosphere
The Good Soldier – Ford Madox Ford
Wonderfully rambling unreliable narrator – and a killer ending
The Story of Art – EH Gombrich
Enthralling and enlightening to one utterly devoid of an artist's eye
Brave New World – Aldous Huxley
Shockingly modern
Harry Potter and the Philosopher's Stone – JK Rowling
Fantastically imaginative ideas
The Hitch-hiker's Guide to the Galaxy – Douglas Adams
In all its many forms – I still can't think of it without the radio show theme song playing in my mind
The Dresden Files – Jim Butcher
My two favourite genres, rolled into one hard-boiled first-person narrative
I'm not tagging anyone, but feel free to join in if you have a yen to do so!
…is out now, and you can get your copy at http://www.theromancereviews.com/ezine.php
There are oodles of excerpts, articles and giveaways inside – including an article by me:
Tall, Dark and Dangerous
(Or Loki v Egil: the Bad Boy Smackdown)
in which I take a lighthearted look at the similarities between Marvel's Loki and Egil Skallagrimsson, a genuine old Norse guy who is dear to the hearts of more than one of my Fall Hard Characters. Enjoy!
We may not get to eat the turkey over here in Britland (boo!), but we can get hold of some fantastic Black Friday deals (yay)!
LOOK OUT for the Pink Squirrel Press anthologies, both at HALF PRICE this weekend!


SUMMER LOVIN' and WINTER WARMERS
Brought to you by Clare London, Josephine Myles, Lou Harper, Chrissy Munder and me, each anthology has five great contemporary m/m stories. At $1.99 for Summer Lovin', and only $1.49 for Winter Warmers, you really can't go wrong!
And here's a few more deals to check out:
At ALL ROMANCE EBOOKS, go to the advanced search at the top of the Home page (screencap below) and enter #AREBLAST for all the books on special offer.

At DREAMSPINNER PRESS:

At JMS BOOKS:


All e-books, all lengths, all formats, in all genres, are 40% off starting on Black Friday and running through Cyber Monday!
Stock up on your favorite authors today! Visit JMS Books or Queerteen Press to save on all e-books ALL WEEKEND LONG!

At TORQUERE PRESS:


Use code "blackfriday" to get 25% off the ENTIRE store until midnight at prizmbooks.com or torquerebooks.com!
I'm delighted to reveal the cover for Relief Valve, the sequel to Pressure Head, which will be out from Samhain Publishing on 25th March 2014:
(couldn't resist putting them together *g*)
Isn't it lovely? And I am insanely chuffed to have a cover quote from the one and only Josh Lanyon - reproduced here so you don't have to go all squinty:
JL Merrow brews another smart, sexy, ever so English mystery romance with cream, sugar, and more than a dollop of universal appeal.
Josh's Adrien English mysteries were among the very first m/m books I read and loved, long before I ever thought of actually writing my own m/m mysteries, so to say I'm thrilled is something of an understatement!
…from The Romance Reviews:
wonderful, well-paced, sensual…Ted and Jem were both so sweet that I just wanted to reach in and hug them both. Victorian and modern-day London were both brought vividly to life, just as both characters were… It's an engaging read and easy to get lost in for a few hours – 5 stars, Annetteg, The Romance Reviews
Trick of Time came out right at the start of 2013, so I was rather chuffed to see it's still getting some attention!
Back from a fun, if exhausting, weekend spent in the delightful company of Charlie Cochrane, Stevie Carroll and Liam Livings at the Festival of Romance in Bedford.
Charlie and I manned (womanned?) a GLBTQ stall at the Romance Fair in the Corn Exchange – Charlie came up trumps by dashing out to the market for emergency pashminas when it emerged that our tablecloth was too short and –horrors! - our table was not decently covered!
Fits of the vapours thus averted, we settled down to hand out free sweeties and, hopefully, increase visibility of the genre.
One visitor to the stall was the lovely Patrick Darcy, who was certainly doing his own bit for increased visibility – I wish I'd got a picture of him in his t-shirt!
Another picture I really should have taken: Stevie dolled up to the nines (I have no idea where the nines actually are, but she was definitely dolled up to them) in a gorgeous fifties-style dress for the Romance Ball in the evening, where awards were handed out, wine was quaffed and we boogied on down to Chap-Hop artist, Professor Elemental. He was entertaining, but a little too fond of tea for my liking…
The following day was the conference, with some interesting presentations by publishers (all of them fronted by glamorous young ladies who looked like they should be starring in their own romances) and a very professional-looking freelance editing team, Ruston Hutton. I took part in a Q&A session on The Romantic Hero, which was a little squeezed for time but contained an interesting perspective from US author Lynne Marie Hulsman on how in harsher times, women want a more caring kind of hero. But the alpha male, it seems, is still firmly on top…
I've always felt that my characters don't really fit the classical definition of romantic hero, and certainly aren't alpha males, which either made me a very good, or a very bad person to have on the panel (no comments, please!). And of course, although I'd prepared for the panel, much as one of my characters would have, I managed to come up with my key message while driving home in the sunshine: you can keep an eye on trends and what the readers want, but at the end of the day, you have to write a romantic hero you yourself can connect with or it's probably going to show.
clarelondon
at
Latest UK Meet news on the website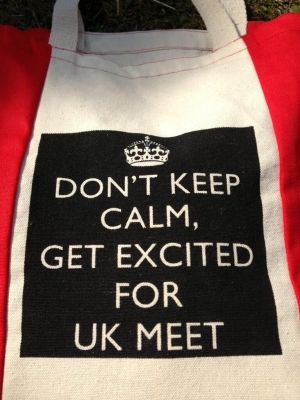 Wondering what the UK MEET is all about? Tempted to attend in Bristol in 2014?
Come and browse the
UK Meet website
. You can find all about the 2014 location and plans, and all the people who've already signed up.

REGISTRATION NOW OPEN HERE!

Plus there's plenty of information about previous years - photos, reports from the attendees etc and - LATEST NEWS- notes from the wonderfully frank 2013 Readers' Panel
.

And if you attended in July
2013 and have any reports or panel write-ups, please share them with us! Contact me and we'll get them posted onto the website.
FROM THE UK MEET TEAM:
Charlie
,
Clare
,
Jamie
,
Jo
and
Liam
Follow us on
GOODREADS
and
FACEBOOK
and the
BLOG
.


♥
Originally posted by
Interesting (if short) post on RT Book Reviews about the new trend for cover guys who are follically unchallenged, facially speaking, here.
Viggo could have told them beards are cool.
…may God bless her and all who sail in her!
REGISTRATION has now OPENED for the 2014 UK Meet!

JUNE 6TH-8TH, 2014
BRISTOL, UK
Head on over to our website to book your ticket now!
We've got a cracking programme lined up for you this year, including a Gala Dinner at the Meet hotel, the fabulous Bristol Marriott Royal. For more details, see the UK Meet website.
As last year, we'll have two levels of ticket, General and Spotlight. They'll be on sale until mid May, or until we reach capacity, whichever comes first. A discounted Early Bird deal will be available until the end of January.

General ticket includes:
1) Access to all daytime activities - panels, workshops, etc.
2) Not just your lunch, but more tea, coffee and nibbles than you can shake a fist at.
3) Your event souvenirs, including the ever popular tote bags and USB sticks.

Spotlight ticket (which will be open not just to authors, but to other delegates who have wares to sell, such as cover artists) includes everything that the general ticket does, plus:
1)Table at the book fair, for you to sell/sign books or other goods.
2) Opportunity to put giveaways in the delegate tote bags.
3)Opportunity to put content onto out giveaway USB sticks.
4) Spotlight feature on our website.

See you there!
From the UK Meet team - Charlie, Clare, Jamie, Jo and Liam